Top 10 Most Valuable Brands of 2018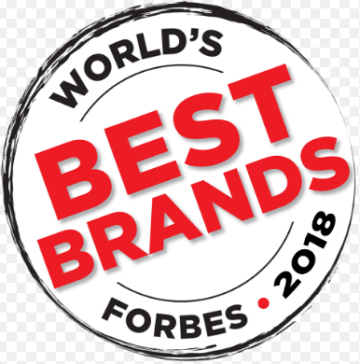 Who runs the world? These companies! For this list, we're taking a look at Forbes' 2018 ranking of the world's most powerful companies and valuable brands based on the numbers.
Number 10
AT&T, the Forbes list was released in May of 2018 but if it had been released just a few months later AT&T position might have been even higher that's because in June multinational conglomerate AT&T purchased Time Warner and became Warner Media which subsequently made it the media and entertainment company with the highest revenue in the world it already been the biggest telecommunications company but this acquisition will take them to the next level, Forbes had estimated their brand value at just over 41 billion even before the acquisition and that's nothing to sneeze at.
Number 9
Toyota, most of this list is going to be dominated by companies that specialize mainly in technology, but there's one automotive giant left in the top 10, and that's Toyota, this company which was started in Japan in 1937 has grown to become one of the most significant car manufacturers globally, they've championed the marketing of hybrid electric vehicles which will help them moving forward as eco-friendly cars become even more popular, in terms of the ranking of highest revenue Toyota is ranked sixth in the world, having brought in 265 billion dollars in consolidated revenue as of 2018.
Number 8
Disney, one of the most magical companies in the world is also one of the biggest, yep the creator of all your favorite childhood movies as well as the happiest place on earth , over the years Disney has only continued to grow acquiring the rights to both Marvel and Lucasfilm to become one of the most substantial entertainment companies around, after the Forbes list was created at the end of July 2018 Disney struck a deal with 21st Century Fox to merge with the company for 71 billion dollars, assuming it goes through this only increased Disney's value.
Number 7
Samsung, you may know Samsung primarily for their mobile devices but the more you look around, the more industries you'll realize Samsung owns a piece of, for example, your TV and your washing machine might very well be Samsung, you might even spot a Samsung product at the hospital, this South Korean company has a seriously broad scope, and with 320,000 employees worldwide they're also a major player in the jobs game, it's been estimated that Samsung and its affiliated companies are responsible for 20% of the value of South Korea's stock exchange.
Number 6
Coca-Cola, they'd like to buy the world a coke or even better, have everyone buy the world a coke, around since the late 1800s this brand is definitely one of the older companies on the Forbes list you wouldn't think that a company could amass a brand value of 57 billion just on drinks but this one has; Coca-Cola is of course known for its best-selling namesake beverage but it's also the company behind Fanta sprite Minute Maid Dasani and Powerade among many others basically if you're drinking something out of a bottle it's likely coke makes it.
Number 5
Amazon, what started as a humble online bookseller has risen to become one of the biggest internet retailers in the world, you can buy just about anything on Amazon and most people do and the company has branched out to create its own exclusive products over the years, with a brand revenue of 169.3 billion dollars Amazon has become the second largest employer in the US after Walmart, and has actually surpassed Walmart as the biggest retailer in the country if going by market capitalization, after buying Whole Foods in 2017 Amazon increased its power even more.
Number 4
Facebook, for the last decade or more, we just haven't been able to shake this social media network even if you're too cool for Facebook now, you surely remember a time when it was the primary way you interacted with your friends and family online, it should come as no surprise then, but this company has come a long way since it was started in 2004 for Harvard students, it now owns Instagram and WhatsApp as well making its social media reach even more significant and if you think that face glory days are behind us, keep in mind that they still have 2.2 billion monthly active users.
Number 3
Microsoft, with arms in both software and hardware, this tech giant is hard to beat, started of course by Bill Gates and the late Paul Allen in the 1970s by the mid-80s Microsoft had come to be the first name in personal computers which were only slowly beginning to gain traction, today the company has a brand value of over 100 billion dollars according to Forbes and since 2014 when Satya Nadella became the CEO Microsoft stock has only continued to rise with a renewed focus on cloud computing of a device creation.
Number 2
Google entered our lives relatively recently all things considered, but now we can't imagine where we'd be without it, first it was the search engine but now it's the browser we use, it's where we keep our emails and do our covert 9to5 G chatting, create our spreadsheets documents and calendars, it's even where we find our maps, that's before even mentioning Android and API's and all the hardware that Google has created, with a brand value of 132 billion dollars, it's hard to see this company taking a slump anytime soon.
Number 1
Apple, who else could be number one,  many of you are probably reading this article on an Apple device,  Apple has undeniably revolutionized the way we live our lives on a day to day basis, so it makes sense that they're the number one company out there by most metrics they're miles ahead of the competition with a brand value of 182 billion dollars and their brand revenue is more than double that of Microsoft's, in late 2018, in fact, Apple became the first public American company to be considered to have a value of over 1 trillion dollars.