Top 10 Best Selling Cars In The World 2018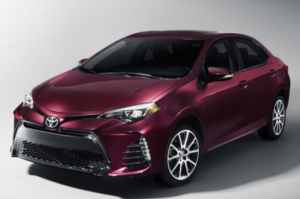 welcome for another new current and exciting article today we have our top 10 best-selling cars and not just in one country, no we're talking about worldwide going from A to B may seem like a simple task for most of us but our elites like to travel in style, keeping with the current trending vehicles on the market, however how do you find the perfect motor that suits not only your exotic lifestyle but that of practicality as well.
well here today we have the top 10 best-selling cars so you can choose the one that's reliable looks as decent as you require and can leave you feeling like you're in the know with what's currently on trend so without further ado let's just get on with our list of the top 10 best-selling cars worldwide, if you're new here welcome be sure to follow us on facebook and instagram at Fyotar Countdowns
Number 10
the volkswagen passat models sold over 15 million, up at Number 10 on our list is the volkswagen Passat, an all around family car that's affordable reliable while still having the leather luxury inside, people love this car, and it's a no brainer as to why with its 1973 heritage and going through several generations, this car has never let its brand down, the u.s. took on other names for the Passat such as Dasher and quantum but either way it's reliable engine and build keep it selling for years, the car comes in two styles the wagon and the sedan with 51 to 61 miles per gallon it's definitely a fuel friendly and efficient car
Number 9
the Ford Model T model sold over 16 million, the Ford Model T was born in 1908 in Detroit this stunning vehicle was something of beauty and with much historical relevance, it's the ninth best-selling car despite the fact that hasn't been produced for over 86 years, in just a 20-year period when the Ford Model T really became popular, it's recorded that an incredible 16.5 million cars were produced being affordable more than reliable and a strong motor that had its little bit of quirk, well, it's no wonder that people were mad about these cars
Number 8
the Honda Accord model sold over 17 million, born in 1976 the Honda Accord has grown in popularity especially around the 1980s by being family friendly and efficient this car never ceases to amaze its buyers with its four-door body and mid-sized presence, spreading over four generations of models the Honda Accord has undergone many developments dropping the SE trim and leaving behind its 140 horsepower, the updated model in 1990 to 293 meant the engines gained an extra 15 horsepower and even built a new exhaust system.
Number 7
 the Ford Escort models sold over 18 million, originally being produced in America and then taking Europe by storm the Ford Escort is a middle ground vehicle that takes the
number seven spot on our top 10 list, this vehicle was not only affordable but equally sustainable and friendly to the fuel consumption, the escort might look like an old rusty motor but it's still seen as a legend amongst cars far and wide, nowadays the only place to sell the vehicle is in China and it's unfortunately taken over by the focus, who knows maybe that one will be on the list in the years to come
Number 6 the Honda Civic models sold over 18.5 million, known for their alight power steering and remaining at number 6 in this year's top selling cars list in the world the 306 horsepower turbocharged motor is a real treat, everyone knows that massive torque and front wheel driven motorist equals certain disaster especially at high speeds, however Honda has well and truly nailed it, how? because Honda knows what a car needs to make it move quickly but act instantly, they balance the front suspension while calming the torque steer giving the Civic a massive advantage on the road, going from A to B has never felt better, you as the driver can feel powerful with the Honda Civic pulling you forward with an exterior and interior that will leave you ahead of the rest and if you've got cars on the brain why not check out one of our other articles the top 10 most expensive cars which will get that motor mind revving even more than it already is click this link to check it out
Number 5
Lada Riva model sold over 19 million, reliable and affordable, the Lada Riva is based on the Fiat 124 and ended production back in 2012 in Russia, however these cars have been selling in the thousands still and many continue to be on the roads, people now refer to the Lada as the Lada classic series with the front engine and rear-wheel drive setup the Lada is a compact car with a middle ground wheelbase of 95.2 inches other variants of this model include the Riva Cygnet and Rivas 1200 1300 1400 and 1500, smaller Numbers of their rally cars were also built with 150 horsepower and Vangel engines, an engine that converts pressure into rotary power and fitted with two choke carburetors.
Number 4
 the Volkswagen Beetle models sold over 23 million, a car that's affordable and practical enough for even the most common people to own, the Volkswagen Beetle comes in at Number four, in 1934 it was Hitler that ordered Porsche to make the people's car with the Volks being translated as peoples and vagon as the car, with influences from standards superior Tantra and Fadden the Volkswagen Beetle had taken on many different prototypes and designs with its two doors it's undergone both the body structure of a standard subcompact economy car and also introduced the convertible body style to mix it up
Number 3
 Volkswagen Golf models sold over 30 million, wanting a car with a million different uses then the Volkswagen Golf is for you, it might be third on the list but with a top three fighting chance, this family hatchback goes from zero to 60 amazingly in just over five seconds great for such a small car and perfect if you want something that looks good but is a middle-of-the-road price with its four wheel all motion system this top car drives beautifully giving you the perfect journey, the Gulf's petite exterior means it can flick around corners and into those smaller spaces with ease making moving and parking incredibly efficient.
Number 2
 the Ford F-series models sold over 40 million, wanting a monster that's punching influential and prestigious then the Number two vehicle on this list is perfect for you, the Ford f-series in at Number two gives you the choice of a heavy duty or a lightweight truck, it's Canada and the USA's Number one vehicle being able to handle the rough and rugged terrain and any weather condition, currently on its 13th generation this top car has switched its steel exterior to aluminum to ensure a lighter Drive aside from the firewall model as well as ensuring that the interior is full of comfy seating and innovative features to see every modern need, you will really make a proper statement in one of these beauties
Number 1
the toyota corolla models sold over 43 million, probably one of Toyotas most prevalent cars made in this century and our ultimate top dog is the toyota corolla a star that's now floating on roads around the world, the corolla might not look as swanky or beasty as some of the cars on this list, however this motor is affordable incredibly efficient and proportionally balanced in comparison to its counterparts the Civic and the golf, with more character than the golf this Corolla is swanky to drive without being too in-your-face ,you can remain suitably smug in this car as it gives you everything you need in a subtle package, the Corolla is Number one for being nothing less than a brilliantly made average car that gives you as the driver the very best safest and trendiest Drive, that is a winner so.
and before we finsh, who were the top three best selling cars in 2017? the fact is that in 2017 our top five cars were actually in the same order the Honda Civic and Toyota Corolla decreased in sales by around 3% while the Volkswagen Golf and Toyota rav4 increased by about 1% lastly our Ford f-series increase the most with nearly 8% increases in sales and Ford is doing fantastically this year so enjoy your vehicles pick them wisely and most of all stay superbly safe thank you for spending some time with us