Terrible TV Show Decisions "Someone Should Be Fired For"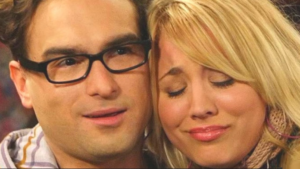 No matter how much we may look forward to new episodes of our favorite shows, there's no such thing as a perfect TV series – and even the most popular and critically acclaimed small-screen hits have made some really, really awful choices…
The entire sixth season of The Walking Dead led up to one moment. Comic fans had already broken the news to TV viewers: Glenn would die beneath the bloody baseball bat of Negan, leader of the saviors. As the season entered its final moments, though, all we got was… well, this: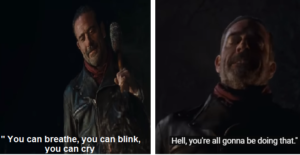 Basically, it was the world's least satisfying cliffhanger. Did Glynn die? Or did somebody else find themselves at the business end of Lucille? Was it someone we even cared about? The showrunners defended the non-reveal by saying it was done in the interest of storytelling, but it wouldn't have been quite so bad were it not for a blunder earlier in the season. For a few episodes, Dead made a big deal about Glenn being, well, Dead, which he wasn't. The zombie epic never had to fake us out about mortality before, but the introduction of goofy camera tricks had already left a rotten taste in everyone's mouths. Just give us the gory goods – and a heaping helping of the feels – or get out of the way. The writers of The Big Bang Theory have always made the Nerds the guys that you root for. Even if they make dumb mistakes, they're generally not reprehensible jerks. Even Sheldon's obnoxious idiosyncrasies are generally charming. And the romance between Leonard and Penny is probably one of the sweeter things on TV, so the eighth season finale was the ultimate bummer. On their way to get married in Vegas, Leonard admits to Penny that he'd kissed another girl, gut-punching everyone in the audience who believes in true love.
Not only is it weird hurdle to throw in front of the characters, but it's also strangely out of character for the show, which never really gets heavier than the death of Howard's mom – and that was more of a tribute to the late actress Carol Ann Susi than a significant plot point. Turning everynerd Leonard into a lech making the audience marinate on it all summer long, sucked.
Why can't we just have nice things? Friends were really about two things: the titular friends hanging out with each other, and those friends dating an endless parade of people who weren't as good as their friends. To that end two of the friends – Chandler and Monica married within the circle, while Phoebe found love with Mike, who was able to infiltrate the court group because he was played by Paul Rudd, the most charming man on Earth. Putting off that moment when they inevitably got Ross and Rachel back together for good. Friends writers killed some time in the final years of the show by trying to make Rachel and Joey a thing. Let us repeat that again: Someone thought it was a good idea to put this man…
and this woman…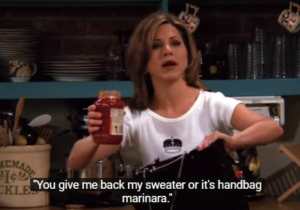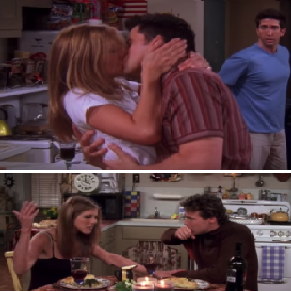 Together,oh- god imagine how their kids would turn out!!! on some level it made sense because they were the two friends who dated around the most, on every other level, it made no sense because there had never been any heat between those two characters. It was just weird, and before long Rachel and Joey realized they were meant to be – surprise! Friends, rendering the whole plot arc an exercise in wheel-spinning. Oh well – at least it spawned some of our favorite Gunther moments.
oh how I Met Your Mother, you had so much potential. you could have gone down as one of the most consistent sitcoms of all time – were it not for that last season, of course. Sure, fans eventually learned that the woman of Ted's dreams was a gal named Tracy – but the actual finale of the show found him middle-aged and rekindling his romance with friend and fellow main character Robin. The show's provocative thesis? A person can have two great loves in their life. If you're wondering where the hell all that came from- well, so we're a lot of viewers. The harsh reality is: How I Met Your Mother wasted most of its final season, which takes place mostly in the hours leading up to the wedding of Robin and Barney. So much time was spent puttering around that the finale episode crammed in a ton of stories in the passage of many years that could have been explored in depth over the course of the season. These briefly mentioned things include Ted and Tracy getting to know each other, having their kids, Tracy dying, and how Barney and Robin get divorced. So you know the stuff that would have actually made us care, instead we got…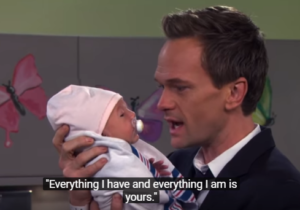 OOF way to drop the ball and pull a lost, guys. Dexter dared to go where no other show had dared go before: it was a series where the protagonist was a serial killer. The writers actually got viewers to root for a man consumed by his desire to murder- and they made him a sympathetic character because he only really ever killed really bad people, usually.
Dexter really made good use of its home on Showtime, depicting graphic murders and mutilations and what not, desensitizing fans over time to all of that horrific and violent imagery. Where could a show like that possibly go after that? Incest, one of Dexter's few allies in the world was his sister, Debra, a Miami homicide detective.
 in the show's sixth season finale, Debra not only finds out her brother is a serial killer, but realizes that she loves him… romantically. He's technically her adoptive brother, but still-  that's almost as hard to stomach as, well…