Famous Celebs Who Are Actually BROKE but Still Pretending To Be RICH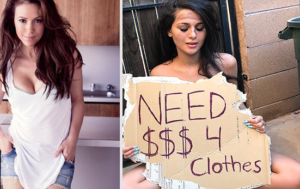 Considering that actors earn hundreds of thousands if not millions of dollars from appearing in movies and TV shows, we assume the people we see on the big screen are making Bank. However, some of them manage to send their cash as fast as they make it, you won't believe which stars are actually totally broke
Drake Bell
Drake Bell has been onscreen so long you'd think he would be rich by now, but he has filed bankruptcy and claims to be $581,000 dollars in debt even his house ended up being foreclosed on, Bell claims that he's currently making about $2.820 dollars per month but has monthly expenses totaling $18,771
 DMX
Earl Simmons is best known as a rapper DMX, in 2017 he pled not guilty to tax fraud with officials alleging that he owes $1.7 million dollars in back taxes, he's declared bankruptcy three separate times and has been jailed for failing to pay child support for his 15 children.
Bow Wow
he went from Shad Gregory Moss to Lil' Bow Wow to just Bow Wow, he's been called out online for posting photos of cars and cash that it turned out didn't belong to him, during his career Bow Wow has had $420,000 worth of cars repossessed and claims that he is now making only $4,000 per month and $3,000 of that goes straight to child support.
Alyssa Milano
actress Alyssa Milano has made a series of bad investments and is neglected to pay many outstanding bills, this has left her millions of dollars in debt but she claims the truly financially irresponsible person here is her business manager Kenneth Hellie, Milano has filed a lawsuit against Hellie using what little money she has left in her account
Tori Spelling
Tori Spelling and her husband Dean McDermott are struggling with a massive pile of credit-card debt, McDermott owes thousands in back child support and the pair have accumulated six figures of credit card debt and back taxes that could result in jail time if not paid
50 CENT
50 CENT has been in the top ten of wealthiest rappers for years before losing it all, in 2015 he filed for bankruptcy after owing 36 million dollars while having less than 20 million dollars in assets, he's recently paid off 22 million dollars in debts but still has a long way to go.
 Kanye West
50 Cent's 36 million dollar in debt pales in comparison to Kanye West's 50 million dollar debt, it's a result of irresponsible spending and putting his profitable musical career on hold to sink millions into his unsuccessful fashion lines.
Johnny Depp
courts are trying to decide whether actor Johnny Depp's 40 million dollar debt is a result of lavish spending as alleged by his former managers or incompetent on the part of said managers as Depp claims. although he's had to sell his yacht and various properties he steadfastly refuses to sell his private jet.
Nicolas Cage
it's easy to see where Nicholas Cage spent his fortune it's just strange, he spent huge sums of money on shrunken heads, dinosaur bones and comic books, there have been lawsuits regarding unpaid taxes and loans and nowadays Cage will take any role he can get to work off his massive debt.
JA RULE
Ja Rule once claimed that his fyre festival was going to be a life-changing event it certainly was but not in the way it had hoped, not only did he rack up 7 million dollars in debt for the disastrous festival but he was also charged with defrauding investors a suit that could see him lose 100 million dollars.
 Lindsay Lohan
the problems of Lindsay Lohan always seemed to play out in the public eye but she tried her best to hide her financial ones, she owes about $600,000 dollars in credit card debt $300,000 dollars to the IRS and $100,000 dollars in back Rent some believe it's only a matter of time before she declares bankruptcy as a result of her mounting debt.
TYGA
he's known for his excessive spending but less known for his crippling debt, Tyga has had his car repossessed more than once, he owes over $280,000 for unpaid jewelry, $186,275 in back rent, and he may just have a few lawsuits for additional rent and child support coming his way.
 Brendan Fraser
Brendan Fraser has starred in many movies that has developed some expensive habits, he struggles to make his $900,000 per year alimony and child support payments, right now he is losing about $87,000 dollars per month he pays $112,000 in professional expenses, $5,200 on gardening and $3000 dollars on staff each month
Aaron Carter
despite declaring bankruptcy in 2013, Aaron Carter has always insisted that he's not actually broke he alleged that his parents mishandled his money and made a lot of financial mistakes that place the family deeply in debt, soon after the bankruptcy was filed he admitted that he was already over $100,000 in debt.
Mike Tyson
although he's just now starting to rebuild his fortune, the amount that Mike Tyson has squandered is staggering, after amassing about $300 million dollars at the peak of his career, he eventually declared bankruptcy due to his admittedly excessive spending years later he has a net worth of a mere 3 million dollars.
Hopefully these riches-to-rags stories have inspired you to be a bit more frugal with your own spending.